Team Vortex Canada wins Gold Medals and Sniper Marksmanship Trophy at the Argyll Cup Sniper Challenge
November 5, 2019
A crisp fall morning was interrupted by gun fire and the movement of two-man sniper teams working their way through one of the most challenging and demanding sniper competitions, the Argyll Cup Sniper Challenge. Police and military sniper teams from across Canada compete in this operational based competition that tests all their skills.
This year Mike Brake (Vortex Canada Pro Staff) and Reg Wales (Vortex Canada Technical Field Advisor) geared up as team Vortex Canada in this annual event. Mike and Reg dominated the competition by winning the Argyll Cup Sniper Marksman Trophy once again. This is the second year in a row that Mike and Reg have won the trophy working as a team and Reg has won the trophy four out of the last four years he has competed.
Reg once again took on the sniper role with his precision rifle topped with a Vortex Gen II Razor HD 3-18x50 Riflescope. Mike had the critical job of the spotter, armed with his tactical rifle and equipped with the Vortex UH-1 Huey Holographic Weapon Sight. This year the Argyll Cup Sniper Challenge was exceptionally challenging as some of the stages had been increased in difficulty. Using their skills both on the range and in the field the two men fought through all 10 stages of the competition. Both men performed exceptionally well, ranking first place in the overall aggregate in points and missing the overall first place position due to overall time. Mike and Reg where the only team to hit all the targets including the high value target (HVT). When it came time for one of the most challenging stages of the competition, the run down, they were ready. Reg engaged targets at varying ranges with the precision rifle while Mike made use of the compact Razor 11-33x50 Spotting Scope to ensure hits. Both men were running and gunning, targets popped up with as little as 3 seconds to engage and hit before the target disappeared as well as moving targets at distances of 400 meters.
High winds made all shots extremely tough to deal with, Mike did an exceptional job steering Reg onto his targets by reading the wind and giving exact shot corrections. Mike also was very quick to dispatch targets at the ambush stage with his tactical rifle and UH-1 holographic sight. Mike moved through the stage engaging targets with his pistol and tactical rifle and clearing the stage with all targets hit. Reg followed up on hitting targets at distance. Team Vortex Canada clearly dominated the field this year in all the stages and only falling victim to a time penalty due to the extra time they spent collecting intelligence on the Recce/Navigation stage.
Next year the men plan to improve their overall time in hopes to claim the first-place position. Overall Team Vortex Canada won gold medals for the top sniper marksman portion of the competition as well as the Sniper Marksman Trophy and finished with overall silver medals in the 2019 Argyll Cup Sniper Challenge. Both Mike and Reg felt by far this year was their best performance as both individuals and as a team.
Mike and Reg would like to thank Vortex Canada, staff and customers who passed on their support. "This competition is like Christmas to Mike and I. It only comes once a year, but we look forward to the next one before we even get our gear off. Mike is a gifted shooter, he has the ability to work the pistol and tactical rifle like a machine, he is hitting targets before I even get a chance to call out their position", said Reg.
If you're current serving police or military and want to test your skills in an extreme event, to register for the 2020 Argyll Cup Sniper Challenge and see where you rank amongst Canada's finest, please contact the MilCun Training Center at milcun.com
You can contact Reg about questions pertaining to your Vortex products by emailing him at reg@vortexcanada.net. You can also contact Reg about his new firearm optics training manual coming in spring 2020. Originally designed for Law Enforcement and Military, it will be now available to civilians as well.
We would like to congratulate Mike Brake, as he was recently presented at TACCOM 2019 with the "Instructor of the Year" award. Congratulations Mike, we are proud to have you as part of the Vortex family. For more information on tactical training with Mike Brake, please visit his website at tacticaltrainingsolutions.ca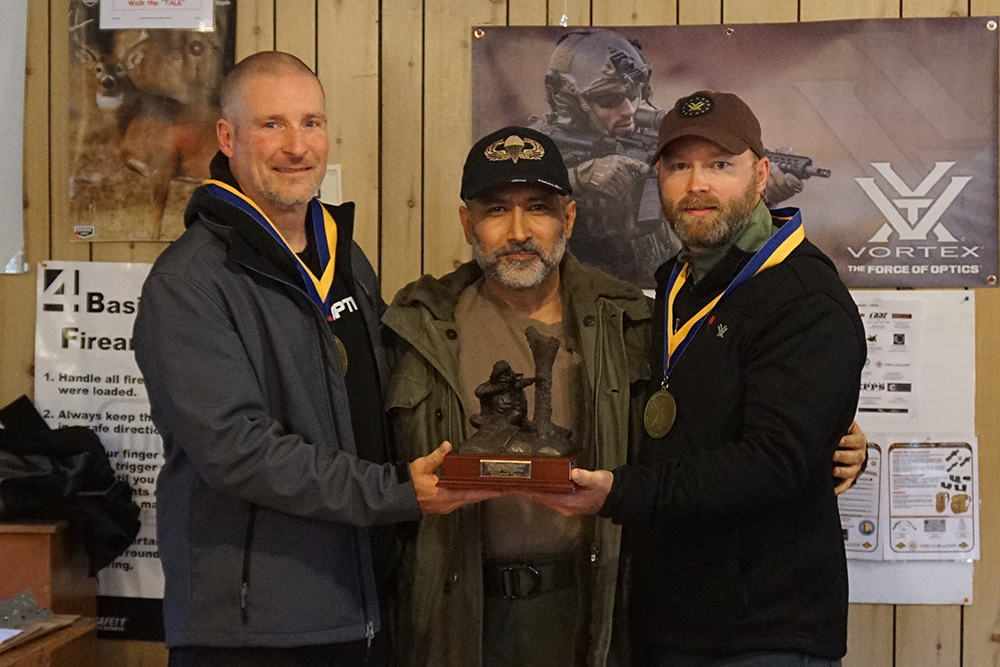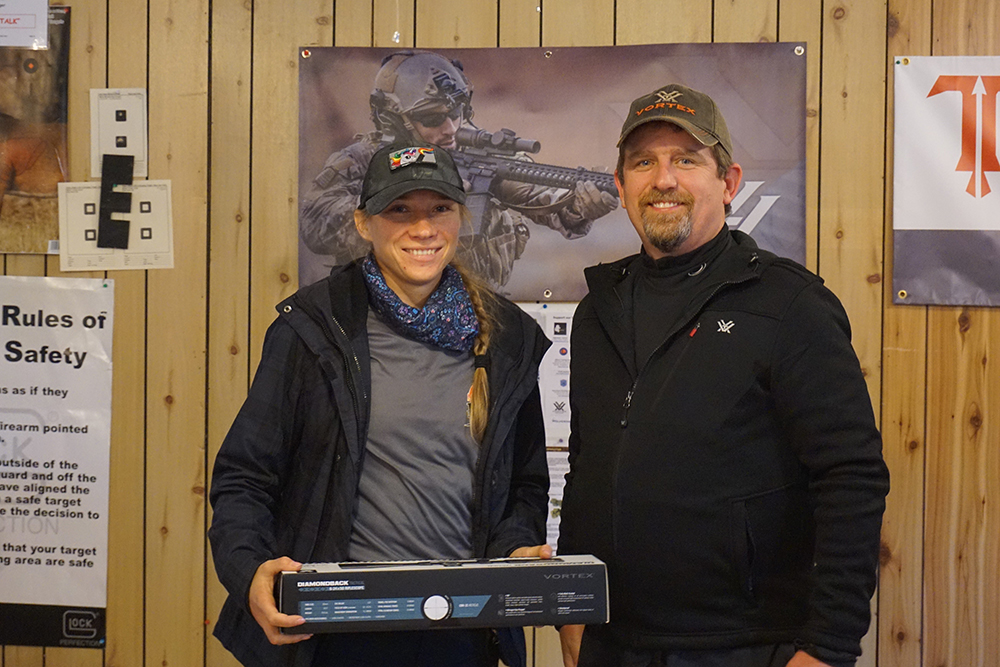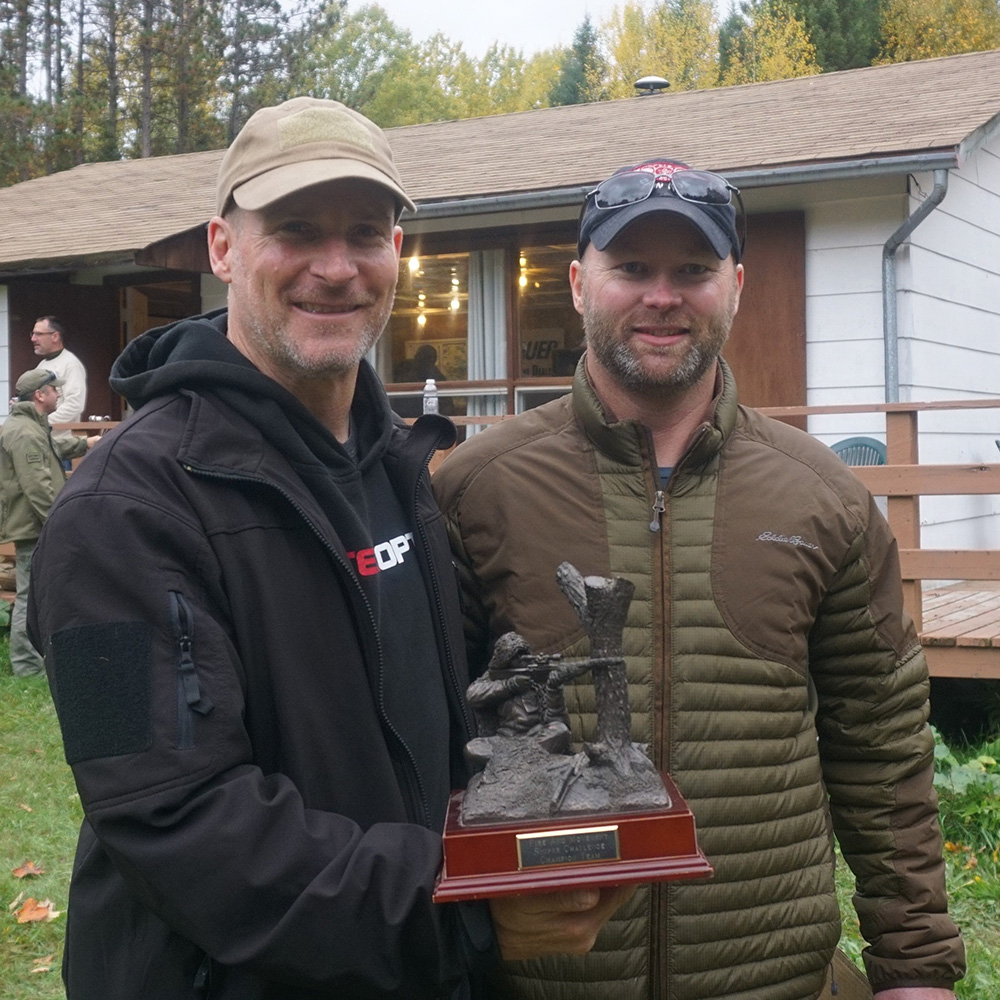 Argyll Cup Sniper Challenge 2018
November 13, 2018
The Argyll Cup Sniper Challenge is held every year at the MilCun Training Centre near Minden, Ontario. This year Mike Brake and Reg Wales competed in the sniper challenge as team Vortex Canada. Mike and Reg won the coveted 2018 Argyll Cup Sniper Marksmanship Trophy. For law enforcement or military, this competition brings out the best of the best and allows service members to hone their skills and to simulate real world operations.
Mike is the owner of Brake Tactical Training Solutions (BTTS) and is also a member of Vortex Canada's Pro Staff. Mike has spent his career as a sniper for the Toronto police service. He teamed up with Reg Wales, former Canadian Armed Forces and Vortex Canada's Technical Field Advisor. Both men brought their respected talents to bear on one of the most challenging operational based shooting events held in North America. Mike worked as the spotter and carried a tactical carbine and Reg worked as the sniper. Both men worked excellent together and cleared all stages of the competition with Team Vortex winning the competition as the top sniper marksmen. The competition is designed to have the competitors use all their sniper skills to complete a ten stage timed operational based competition.
"It was an honor to work with Mike, his skills, focused mindset and professionalism gave us the edge. Mike has a reputation of being one of the best in his field. As a professional firearms instructor Mike has taught to Canada's best law enforcement men and women. I knew that Mike would be a strong partner in this competition. When it came time for Mike to engage targets with the pistol or carbine he was like a machine, just another day at the office for him. Mike flew threw the ambush stage with ease. He makes it look so easy. Mike and I have shot together for many years at the MilCun Training Centre. Mike and I represented the retired Military and Police. It is a great feeling to know you still have the skills to compete against the best out there. I cannot wait to get out there with Mike and do it again next year with Mike," said Reg.
For those wishing to learn and gain the skills needed to be at the top of your shooting game you can get in contact with Mike at Brake Tactical Training Solutions. To learn and gain the skills needed to be successful on the range and in the field with your rifle scope you can purchase Reg's book: "The Ultimate Optics Guide to Rifle Shooting" here at Vortex Canada or at any of our Vortex dealers across Canada.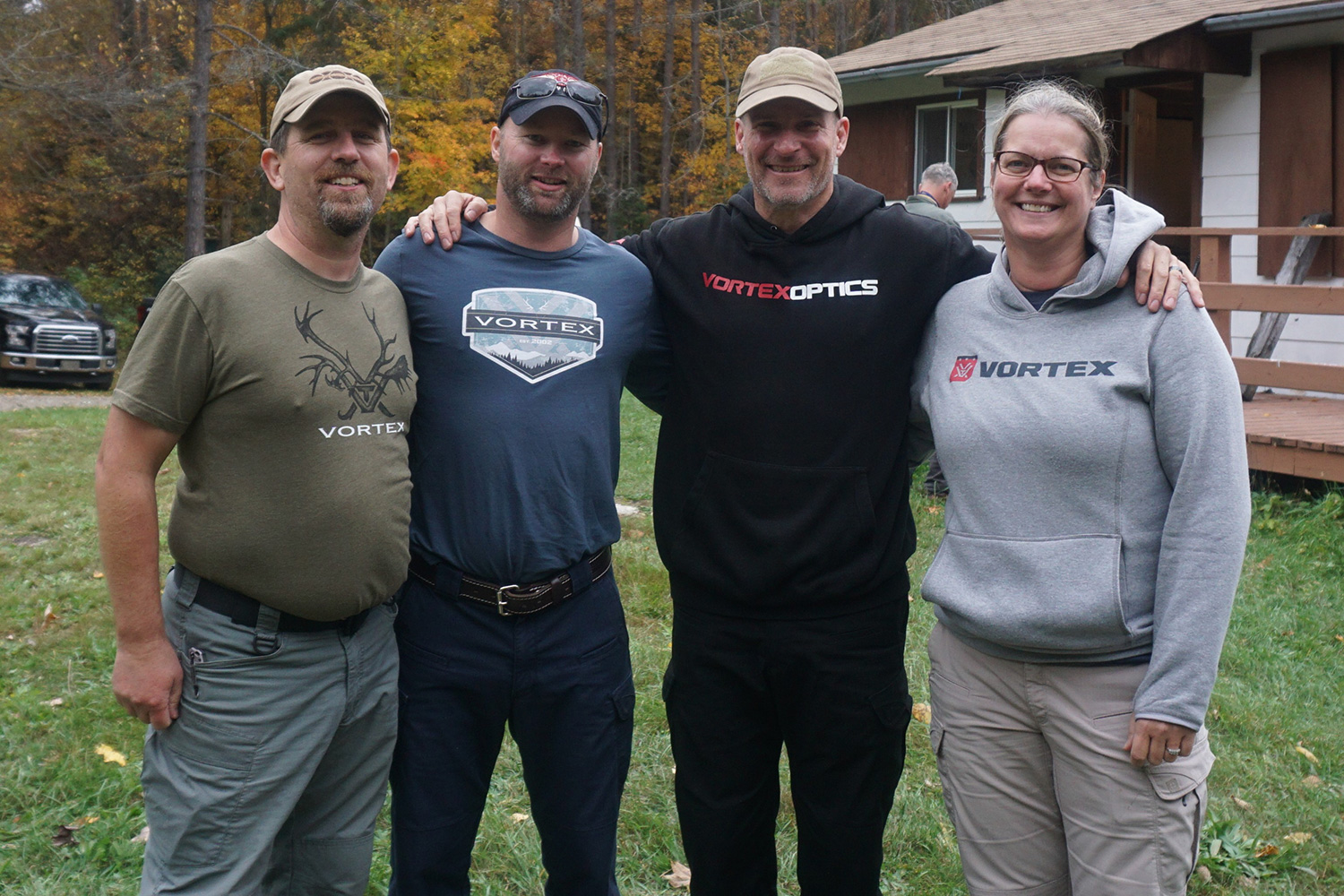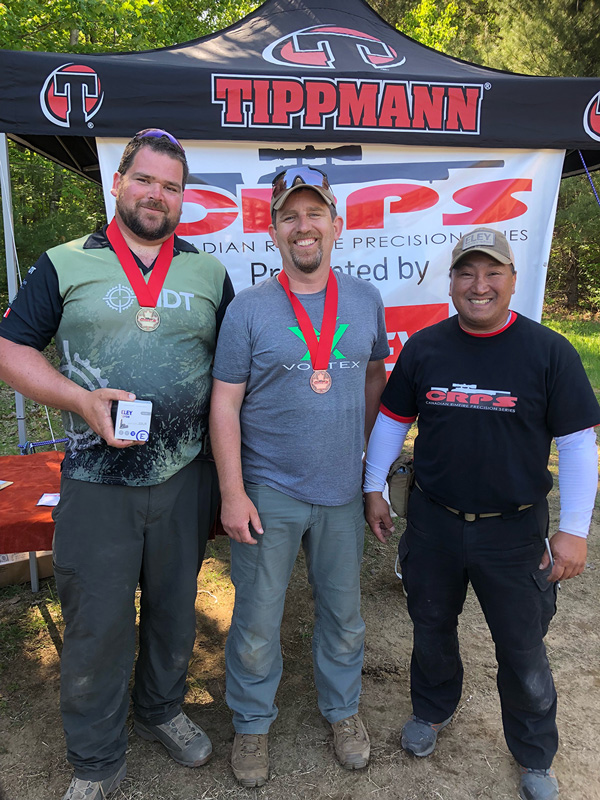 Vortex Canada at the CRPS Long Range Rimfire Precision Match
June 6, 2018
Something new and exciting to Canadian shooters are long-range precision rimfire matches. This competition is the smaller version of the well-known Precision Rifle Series (PRS) that is shot with centrefire rifles. The third Precision Rimfire Match this year was held at C.F.B Petawawa, Ontario on June 2. This event was attended by a variety of shooters from all levels of experience, all walks of life and from every age group. The best thing about it is that you don't need to be a pro to shoot it, you only need to have a positive attitude, apply safe firearms handling skills and be ready to have fun. The rimfire competition provides an opportunity for anyone interested in shooting a very dynamic and exciting match to do so with limited amount of investment and still get the same experiences as those that shoot the longer-range centrefire PRS matches. There were shooters from all ages participating, also some families competed as a group and shared rifles. This is the future of shooting sports in Canada as well as around the world. The event had ten stages with ranges varying from 80 to 300 meters. All participants must use a .22 L.R. rifle. Targets varied in size from as small as .50 inches to as large as 17x31 inches. The targets were all made of steel so that each hit could be seen and heard. The targets also differed in shape from circles, squares, diamonds to animal shapes and were colour coded for ease of finding them in your scope. Stages consisted of shooting from barricades, large and small tires, shooting from inside a dog house, tire swing, off a roof, from a slack rope and even from the roof top of a three-foot Little Tikes plastic car (the same one that can be found at Toys-R-Us). I have attended many shooting events, but this one will stick with me as one to remember.
Vortex Canada was on hand at the event, with Ryan McLean and Peter Ray shooting and placing in first and third positions on the podium.
Vortex Canada Pro Staff member Ryan McLean is well known for his shooting capabilities. Ryan is no stranger to the PRS circuit and has won numerous awards while sporting Vortex logos on his gear. Peter Ray is Vortex Canada's Ontario Sales Agent. Peter active in the shooting sports and enjoys getting out with his sons and hunting dogs to enjoy outdoor pursuits. This was Peter's first attempt at any precision rifle competition, but one would never have known. Peter excelled in each stage, clearing several stages without a single miss. As well as shooting, Peter gave advice and helped other shooters with questions they had about optics.
Although, this event is the smaller version of the centrefire PRS match the shooters must have some basic equipment besides the rimfire rifle and a few boxes of ammo. A quality rifle scope is a must and Vortex was well represented at the match. Many Vortex optics were spotted at the match, varying from the Crossfire II models to top of our line Razor HD Gen II optics. So, the next time you are out plinking with your .22 L.R rimfire think about packing the family up in the car and give this event a try.
No matter if you win a prize or not, you are sure to have a blast and it will make for great memories and conversations to come. Congratulations to Ryan on his first-place win and for Peter for his great third place finish.
For more information on this event and information on how to participate in the Canadian Precision Rimfire Series visit rimfireprecision.ca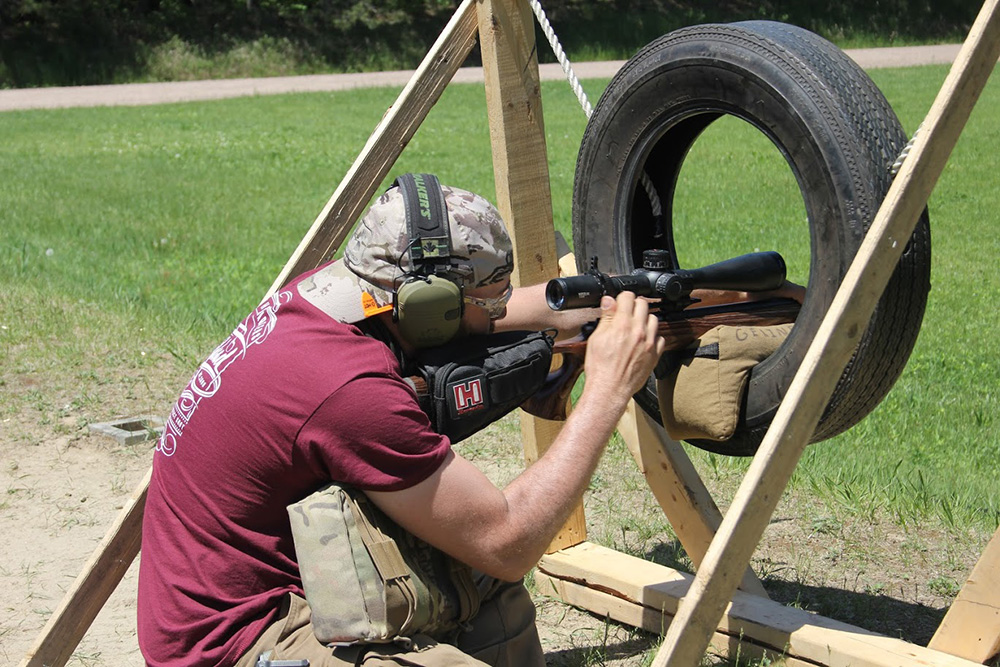 photo by Cory Johnson
Reg Wales wins Argyll Sniper Marksman Trophy for second year in a row!
The sound of early morning gunfire was the result of the annual Argyll Sniper Challenge being held at the MilCun Training Complex in Minden, Ontario. Sniper teams from across Canada come to compete in the event that challenges the sniper in using all their operational skills. This year Vortex Canada's Reg Wales and his spotter Jeff, from the Kingston Police Force, won the Argyll Sniper Marksman Trophy again for the second year in a row.
This is a six kilometer course that includes range estimation on unknown targets (without the use of a range finder), shooting long range targets at unknown distances, a run down on a range and engaging moving targets, targets that pop up and down as well as a "high value target" with one shot to the head and a written test. Also part of the course, an observation stand, water crossing using paddle boat, a stand that simulates an ambush, and long range field firing. This is a very demanding both mentally and physically. All this and while being timed.
Reg was the sniper again as Jeff T took up the role of the spotter. Reg was using the Gen 2 Razor 3-18x and Jeff was using the Vortex Viper 6-24x PST first focal plane optic. The optics performed to perfection, and the Gen 2 Razor was able to see through some of the morning fog to identify targets to be hit. Three years straight Reg has dominated the field firing stand without a miss. A series of 3 targets at unknown distance. Three targets with three shots without a miss and within three minutes of time of arrival to time of departure from the stand.
The equipment being used included the Gen 2 Razor 3-18x, Viper PST first focal plane, Razor binoculars 10x42mm, Ranger 1500, Ranger 1000 range finders as well as Vortex accessories such as vortex bubble levels, switchviews, Vortex Precision Match Rings and a Precision Match Cantilever ring mount.
Many know Reg as Vortex Canada's Technical Field Advisor, answering customers questions on use of their optical scope. He is also the author of "The Ultimate Optics Guide to Rifle Shooting" which can be purchased where Vortex Optics are sold. It can also be purchased directly through this website by CLICKING HERE. You too can use many of Regs' techniques and information from his book that he applied to the Argyll Sniper Challenge and winning the Sniper Marksman Trophy.
If you have any questions about the use of your optical scope please send Reg an email at reg@vortexcanada.net He is always happy to help you with your optical shooting needs.